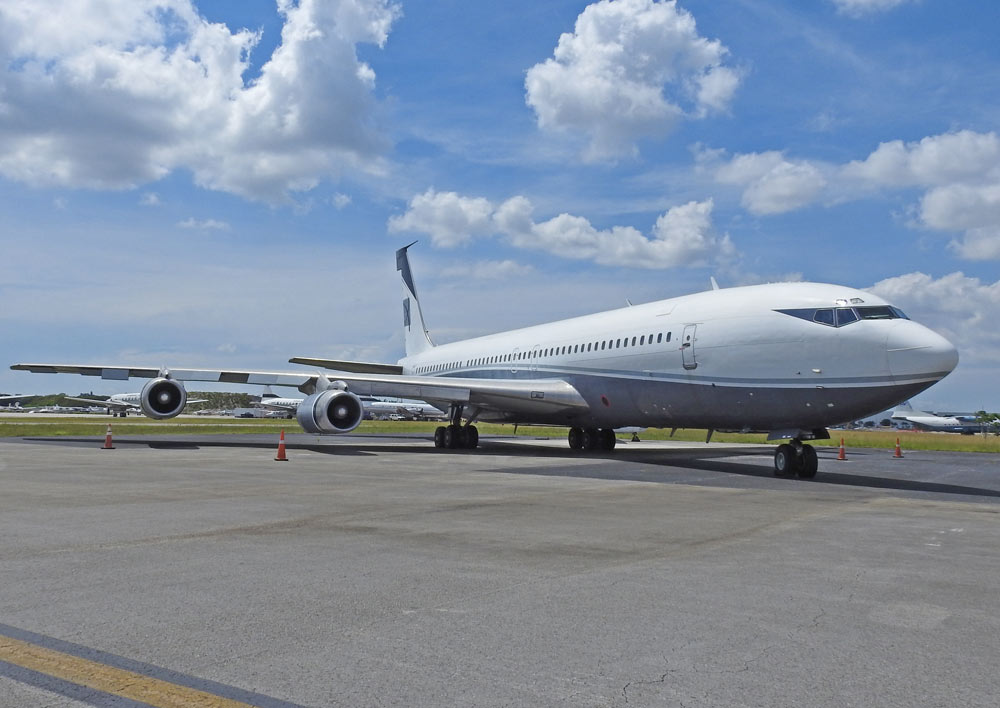 Aircrafts' History
Actually the simulator will consist of 3 different aircraft.
2 Lufthansa Boeing 707s, D-ABUF and D-ABUD with all cockpit panels and many instruments coming from these aircraft while the shell is from HZ-ACI a former Saudi Arabian Airlines Boeing 707. It later went to the RAAF and was flown to the UK in 2007 to become a flying museum but unfortunately this did not materialize because of hush kit problems so the aircraft was used for spares, dismantled and scrapped.
Construction number 18928
Line No 457
model 707-330B
Built for Lufthansa (330B model)
SELCAL FJCG/DKHM
D-ABUF Boeing, rolled out at Renton 29.05.65, made its first flight from Renton 07.12.65
D-ABUF Lufthansa delivered 28.12.65; named "Hannover"; new colours adapted 1968
D-ABUF Condor leased 24.04.78
D-ABUF Lufthansa returned 01.79
D-ABUF Condor leased 03.79
D-ABUF Lufthansa returned .81; seen FRA 01.03.81 in full LH colours. Accumulated TAT 64,743 hours 09.81; operated non-stop Tokyo-Frankfurt 05.84 and broke speed record 12 hours, 29 minutes
D-ABUF Lufthansa removed from service 06.84, placed in storage at Hamburg as back-up aircraft. Accumulated TAT 72,925. Highest timed aircraft among Model -300Bs. Flew 39 hours in 06.84.
N5381X Aerommer Ltd purchased 02.07.84; re-registered and ferried Hamburg-Basel for executive modifications
N5381X Lowa Ltd purchased 01.85, seen HAM 02.85 all white
N88ZL Lowa Ltd re-registered 03.85, seen LHR 08.03.85
N88ZL Lowa Ltd/Inter Six Inc. CoR issued 19.03.86; ferried SNN-IAD 19.05.88, modified with hush kits 1988; seen LBG .91 seen LHR 12.94. Operated by Jet Aviation 1995. Accumulated TAT 80,244 hours 06.96. Seen VIE 01.97, seen GVA 07.07.97 in new colours dark green underside, golden stripes, white top. First aircraft to be Stage III Hush kitted 10.98. Seen MIA 28.04.03 & 19.07.03 blue/white, seen HNL 06.04.04, seen MIA 15.07.04, seen HKG 23.10.04 charted by the band Eagles for round the world concerts, seen SYD 12.11 & 19.11.04, BNE 23.11.04, MEL 28.11.04 and ADL 29.11.04 as part of The Eagles Australian tour, seen TXL 17.06.05 and BRU 19.05.2005 charted for the President of Gabon, seen MHV 27.10.05 stored intact, seen POA 28.11.05, CWB 29.11.05, GIG 06.12.05 charted by the rock band Pearl Jam
N88ZL operated by Principal Air Services, overran the runway at YHM early morning 21.01.06 with the band Bon Jovi onboard, test flight following runway overrun incident 23.01.06, seen LAX 02.03.06 charted by Bon Jovi for their United States concert tour, to PHX 07.04.06, flew to Brunswick Glynn County GA 12.05.06, flew HNL-JFK 23-24.12.06, seen parked MIA 06.05.07, seen 12.07.07 operated for Bryan Adams, seen SJU 22.10.07 with President of Angola. For rent or sale via The Humes McCoy Aviation website 03.08, seen NRT 27.05.08 as call sign Congo01 from FIH bringing President of the Democratic Republic of Congo to participate in the 4th African Development Congress, seen STN 15.07.09, seen SJO 09.10.09 to pick up Depeche Mode after their show the night before, then departed to BOG for their next show, seen MEL 15.09.09 bringing pop star Beyoncé, ferried ACY-OPF on 14.11.11, seen stored OPF 03.12.11. Hasn't flown since.
N88ZL Mercury Aviation Partners, purchased xx.18
This is the last 707 that carried paying passengers in the United States.
By Guy van Herbruggen
Sources:
Boeing 707 by Lundkvist Aviation Research January 1982
Individual Aircraft History of the Boeing 707 by Kivanc N. Hurturk 1998
airliners.net