Latest News
Updates on the project. Please be aware I am not updating regularly. As of September 2023 85% of all instruments are converted for simulator use. Cleaning and wiring of cockpit next.
Blog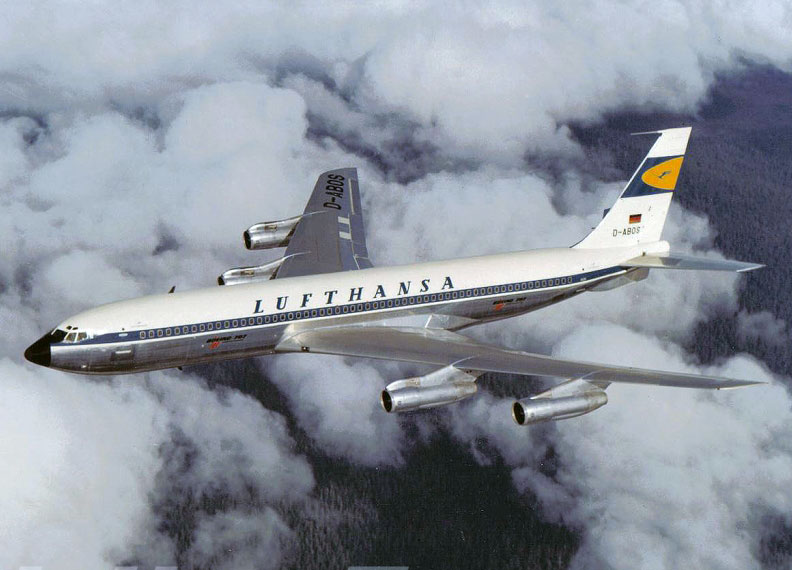 What makes the Boeing 707 so special?
The first medium to long haul passenger jetliner, the Boeing 707 first took to the skies in 1957. Hugely popular in its heyday, and a symbol of a new, high-flying age powered by forward-looking technology and design. The aircraft itself remains a marvelous achievement, a magnificent commercial gamble and a truly great design admired by many to this day. "If it ain't Boeing", went the cliché, "I'm not going".
The Boeing 707 entered commercial service with Lufthansa in 1960 and revolutionized air travel. Dominating passenger air transport in the 1960s and remaining common through the 1970s, the 707 is generally credited with ushering in the Jet Age. Furthermore, the "7-o-7" was a highly elegant and technically advanced flying symbol for the emerging West German – U.S. Trans-Atlantic cooperation after the war.
The cockpit section will be cleaned, painted and restored to 100% Lufthansa Boeing 707-330B  standard. I was able to secure several hundred pounds of parts, instruments and panels from various Lufthansa 707s around the world, making this endeavor possible. However, this is a NON COMMERCIAL project. I will share much of my knowledge and progress on this website. Please consider supporting this unique project – every dollar counts.
The 707 Simulator project was started with a different nose section (N707QJ) which has been exchanged for the original Lufthansa one. On the timeline this will be noticed as a small setback but the historical value of D-ABOD is much higher. Last but not least, both my parents actually worked on this aircraft with Lufthansa.
If you doubt the ambition of this project please see this youtube video. I am getting support and help from all over the world including maintenance engineers and software developers. Your help is very much appreciated.